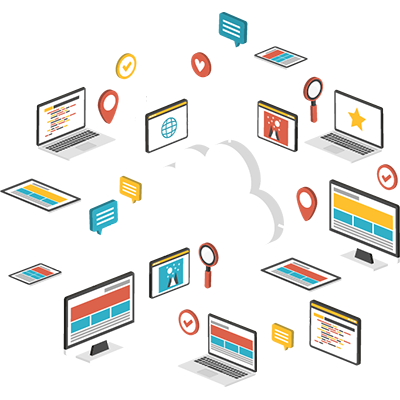 Cloud Services
Cloud speeds up business and increases sales opportunities but it presents its own challenges.
What is a cloud service?
A cloud service is any resource that is provided over the Internet: cloud services are the same thing as Web services. They are designed to provide easy, scaleable access to applications, resources and services, and are fully managed by a cloud services provider.
Examples of cloud services include online data storage and backup solutions, Web-based e-mail services, hosted office suites and document collaboration services, database processing, VoIP services, managed technical support services and more.
Benefits such as flexibility, disaster recovery, automatic software updates, increased collaboration, better document control, high security, environmental friendliness and the absence of capital expenditure make cloud services particularly attractive, but not all of them are totally secure so it's as well to have help from people who know what they're doing.
What Our Customers Are Saying
Don't just take it from us, let our customers do the talking!
"Before MNT I was in a constant fight with the technology in my business. It was coughing up issue after issue and it eventually ended up affecting my core business.
I told MNT the truth – I was fed up with all the issues and asked what they could do. They were very welcoming and professional, sorting out every single issue one by one without much input from my side. Now I am all about my business like I always wanted to be. Fantastic. Any issues with my IT and the fix is a single call away. "
One man business, Dundee
"Since we engaged MNT 2 years ago our business have expanded. Not just because of changes in the market, but also a lot thanks to MNT who have completely defused the tension on the IT side of our business. We also accredit MNT for helping us making better decisions when investing in IT through their extensive knowledge and willingness to share that knowledge with us. Their consultancy function is as important to us as their managed IT services."
Small business owner
"When I asked MNT to help me planning the IT in my business I wanted a sustainable solution. My knowledge of IT is probably more non-existing than anything else. I had been high and low just to end up quite confused. However, I found it easy to trust these guys, because they talked to me on a technical level that I understand – and their first action was to take the time to understand what my business is like and what it needs. My IT works for my business, I have what I need for now and there is a contingency plan for whenever my business needs more.
Pay As You Go works fine for me so far, I only pay for the services I need when I need them. However, I see that the value of the data I store in my computers is increasing to become my most valuable asset. So next year I plan to level up a little and safeguard my data in a professional manner."
Small business owner
Frequently Asked Questions
When should I consider Managed IT Services?
This depends on many things. But in general it boils down to how floored your business will find itself if something really bad happens to your system. Some businesses won't notice much of a difference, other businesses will face extinction.
It is not uncommon among small business to be caught by surprise. Cyber attacks, malware attacks, hard-disk crash and other hardware failure, system configuration failure, unintended deletion, loss of internet and anything between these can cause havoc among the parties hit by the incidents.
Call 01382 250101, tell us about your system and we will explain what is a risk and what is not a risk to your business.
What is your refund policy?
We offer no-questions-asked refunds to all customers within 30 days of your signing your contract. If you are not satisfied with our services, then simply send us an email and we will refund your purchase right away. Our goal has always been to create a happy, thriving community. If you are not thrilled with the services or are not enjoying the experience, then we have no interest in forcing you to stay an unhappy customer.
What are Photoshop Files?
Elegant Themes offers two different packages: Personal and Developer. The Personal Subscription is ideal for the average user while the Developers License is meant for experienced designers who wish to customize their themes using the original Photoshop files. Photoshop files are the original design files that were used to create the theme. They can be opened using Adobe Photoshop and edited, and prove very useful for customers wishing to change their theme's design in some way.
Can I upgrade after signing up?
Yes, you can upgrade at any time after signing up. When you log in as a "personal" subscriber, you will see a notice regarding your current package and instructions on how to upgrade.
Can I use your themes with WP.com?
Unfortunately WordPress.com does not allow the use of custom themes. If you would like to use a custom theme of any kind, you will need to purchase your own hosting account and install the free software from WordPress.org. If you are looking for great WordPress hosting, we recommend giving HostGator a try.
ENGAGE
With MNT Tech Today
Delta House 1a
Gemini Crescent
Technology Park
Dundee
DD2 1SW